WHICH SHOES ARE BEST FOR WALKING?
Finding the best walking shoes depends on a handful of factors, like how far you walk and where you get your steps in.
Depending on what matters to you most—comfort, miles, style or Mother Nature—we'll walk you through finding the perfect pair.
COMFORT
Maybe you walk a few miles every morning or take long meandering walks with a four-legged (or two-legged) friend. You want cushioning and flexibility, and you want it from the first step.
Nike Air Zoom Pegasus 37: The ultimate go-to daily sneaker. It has a comfy Zoom Air bag in the forefoot and soft React cushioning. It's designed for comfort, support and a smooth ride day after day.
Nike Free RN 5.0: The flexible sole moves with your natural range of motion for an easy, barefoot feel. This shoe keeps your foot close to the ground—perfect for walks under three miles.
Nike Air Zoom Vomero 14: This shoe is a staple for plush comfort with lots of cushion. It's got two types of cushioning (Zoom Air and React) for a snappy sensation when you step.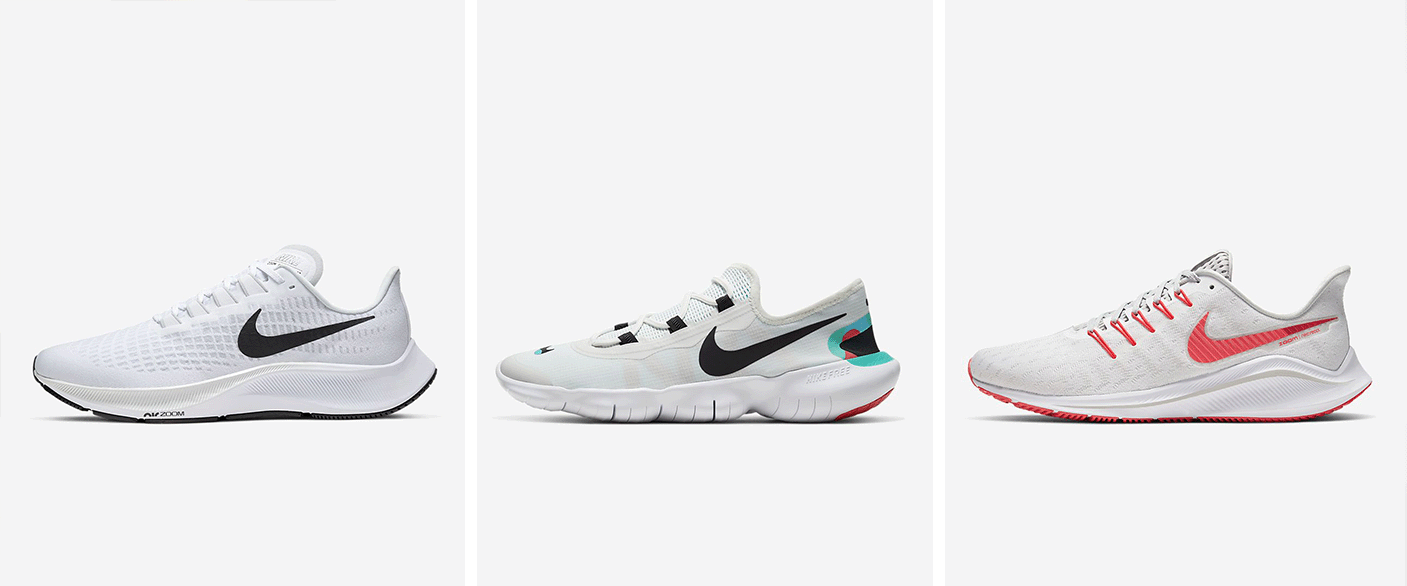 From left to right: Nike Air Zoom Pegasus 37, Nike Free RN 5.0 and Nike Air Zoom Vomero 14.
MILES
You log serious miles (sometimes at a serious pace). You want an efficient performance shoe.
Nike React Infinity Run Flyknit: It's soft and springy. It's one of our most cushioned shoes. And it's designed to absorb lots of impact to help keep you moving comfortably mile after mile (after mile).
Nike CruzrOne: Designed specifically for cruzing through miles at a slower pace. The curved sole makes step after step smooth and easy. It's got lots of React cushioning and a lining so plush you can skip socks.
Nike Zoom Fly 3: This shoe screams performance—it has a carbon-fibre plate designed to turn the pressure from each stride into momentum for the next step.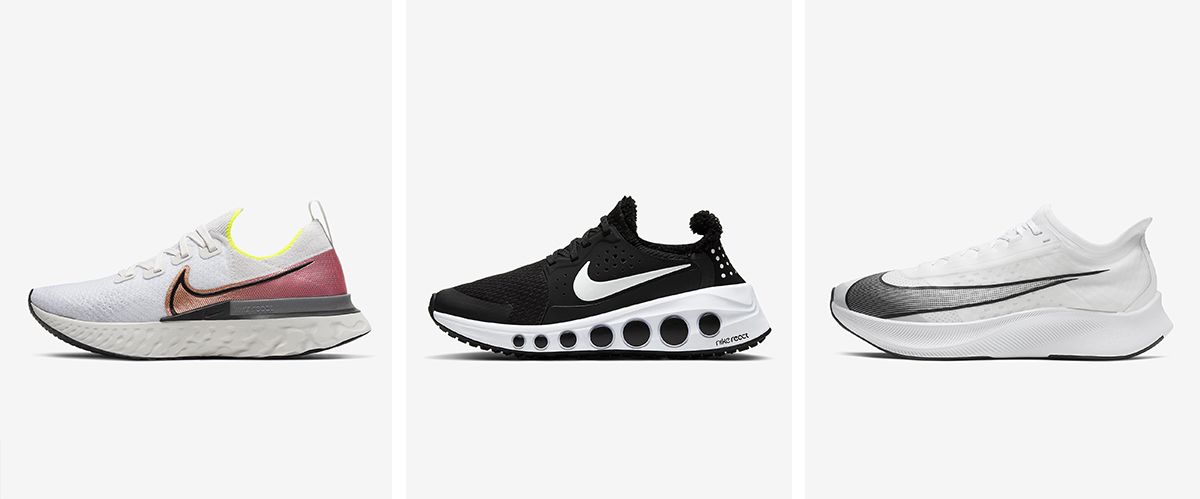 From left to right: Nike React Infinity Run Flyknit, Nike CruzrOne and Nike Zoom Fly 3.
STYLE
You want to turn heads in the street. Or on the track. Or even at the supermarket. But you still deserve an easy, comfortable ride.
Nike React Element 87: The translucent upper is lightweight, the midsole is springy React cushioning and the outsole has rubber pods for traction.
Nike Air Max 720: Our tallest Air unit yet means you get extra air (and therefore extra comfort) under each step.
Nike Air Huarache: This one is an icon. It's big. It's bold. And it's been known for its legendary comfort since 1991.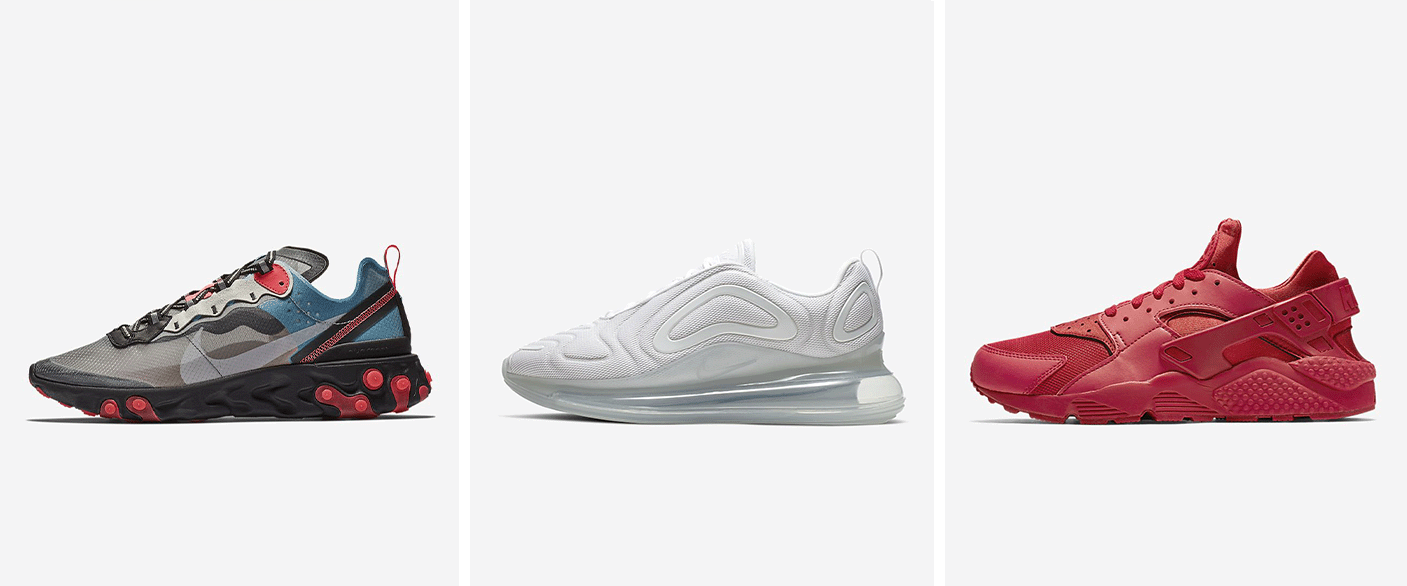 From left to right: Nike React Element 87, Nike Air Max 720 and Nike Air Huarache.
MOTHER NATURE
You're not afraid of dirt and you want traction to tackle the trails. You always opt to be outside and like to see mud on your soles.
Nike Air Zoom Terra Kiger 6: Everything you need to get outside—added protection against rocks and roots, extra traction for wet surfaces and stability for increased balance.
Nike Air Zoom Pegasus 36 Trail: Ever wished your favourite sneakers were trail-ready? You're in luck. It's also got perforated mesh for breathability and outsole lugs for extra traction.
Nike Air Zoom Wildhorse 6: Part sneaker, part hiking boot. This shoe is made for trails, with Nike React cushioning, enhanced ventilation and a sole with serious grip.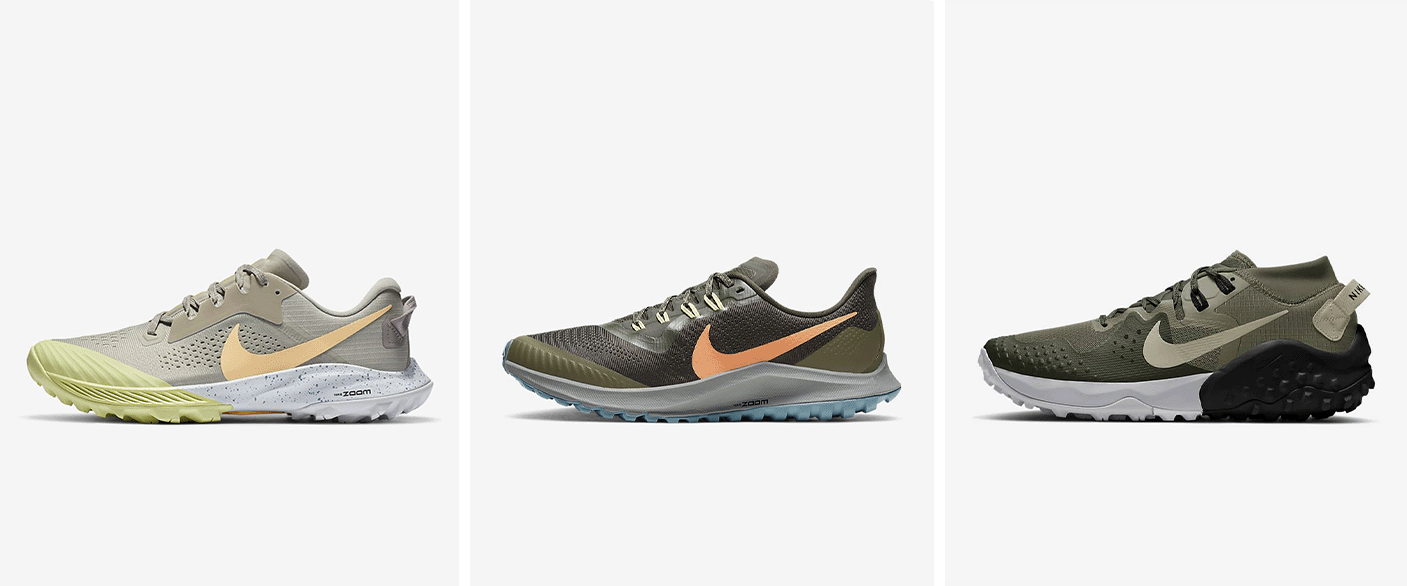 From left to right: Nike Air Zoom Terra Kiger 6, Nike Air Zoom Pegasus 36 Trail and Nike Air Zoom Wildhorse 6.
DESIGN AND MATERIALS
While you're browsing Nike.com for walking shoes, keep an eye out for these materials to help you pick the best pair, from the right kind of cushioning to beating the weather forecast.
WALKING SHOES VERSUS RUNNING SHOES
You'll find our walking shoes listed as running shoes, but don't panic. Our groundbreaking running innovations can take your walking up a step, too. Though they happen at different speeds and involve different degrees of shock absorption, walking and running are the same basic heel-to-toe movement. Our shoes are designed to keep you moving and they'll be there for you, step after step, mile after mile. So walk or run, your stride might benefit from our comfort, support and cushioning. And our sense of style doesn't hurt either.
Most of our favourite walking shoes are available in both men's and women's sizes, and a few are unisex shoes. This size chart can help you convert between men's, women's and unisex sizes.
FIT AND FEEL
There's only one way to know what walking shoe is best for you: Put them on. Take a walk. Repeat. When it comes to finding the right fit and feel, there's no substitute for actually walking in the shoes. That's why we offer a 30-day trial. If you don't love them, return them for any reason within 30 days. Yep, even a few walks in—dirt and all.