Neymar Jr's Mercurial Story
As a kid in Brazil, Neymar Jr dreamt of greatness. Every step of his journey has made him who he is today, from his first cap with the Brazil national team to his world-record transfer with Paris Saint-Germain. We took some of his biggest moments and told the story through player edition Mercurial boots over the years. Let's take a look at each.
July 2017: Written in the Stars
Neymar Jr's first signature boot's colour palette took inspiration from Brazil's flag and was amplified to a vibrant Blue Orbit and Volt. The constellations graphic across the upper represent the path the ball took in the build-up to six of his favourite goals.
DECEMBER 2017: Puro Fenomeno
'Puro Fenomeno' celebrates Neymar Jr as the phenom with the expectation of being Brazil's next star and takes inspiration from Ronaldo's original 1998 Mercurial R9. The Volt colour accent is a modern take on the cactus-green Mercurial Vapor Superfly II, the boot an 18-year old Neymar Jr wore and scored with on his Brazil debut in 2010.
JULY 2018: Meu Jogo
The 'Meu Jogo' Mercurial pays tribute to Neymar Jr's expressive style of play that has taken him to the highest level of football. The yellow colourway pays homage to his early roots in Brazil and the diamond pattern on the boot's heel radiates outwards in stripes of black and white: the home colours of Neymar Jr's first club.
February 2019: Silêncio
The latest Mercurial Vapor 360 features a full-wrap pattern of a repeating "Shhh" graphic for his ability to stay calm and focus on his game, while red details on the Swoosh and studs nod to the home kit of Paris Saint-Germain.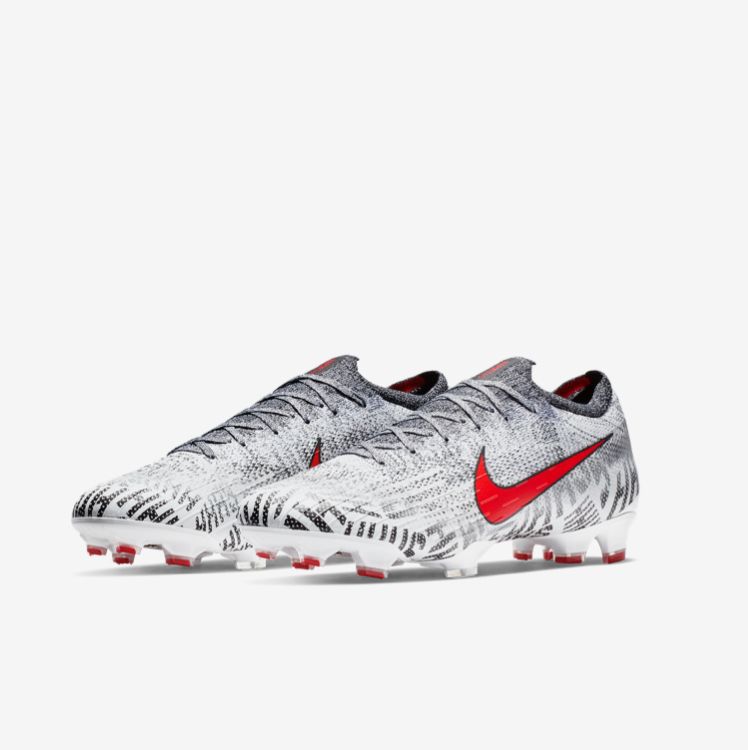 MERCURIAL VAPOR 360 ELITE NEYMAR JR FG
Firm-Ground Football Boot