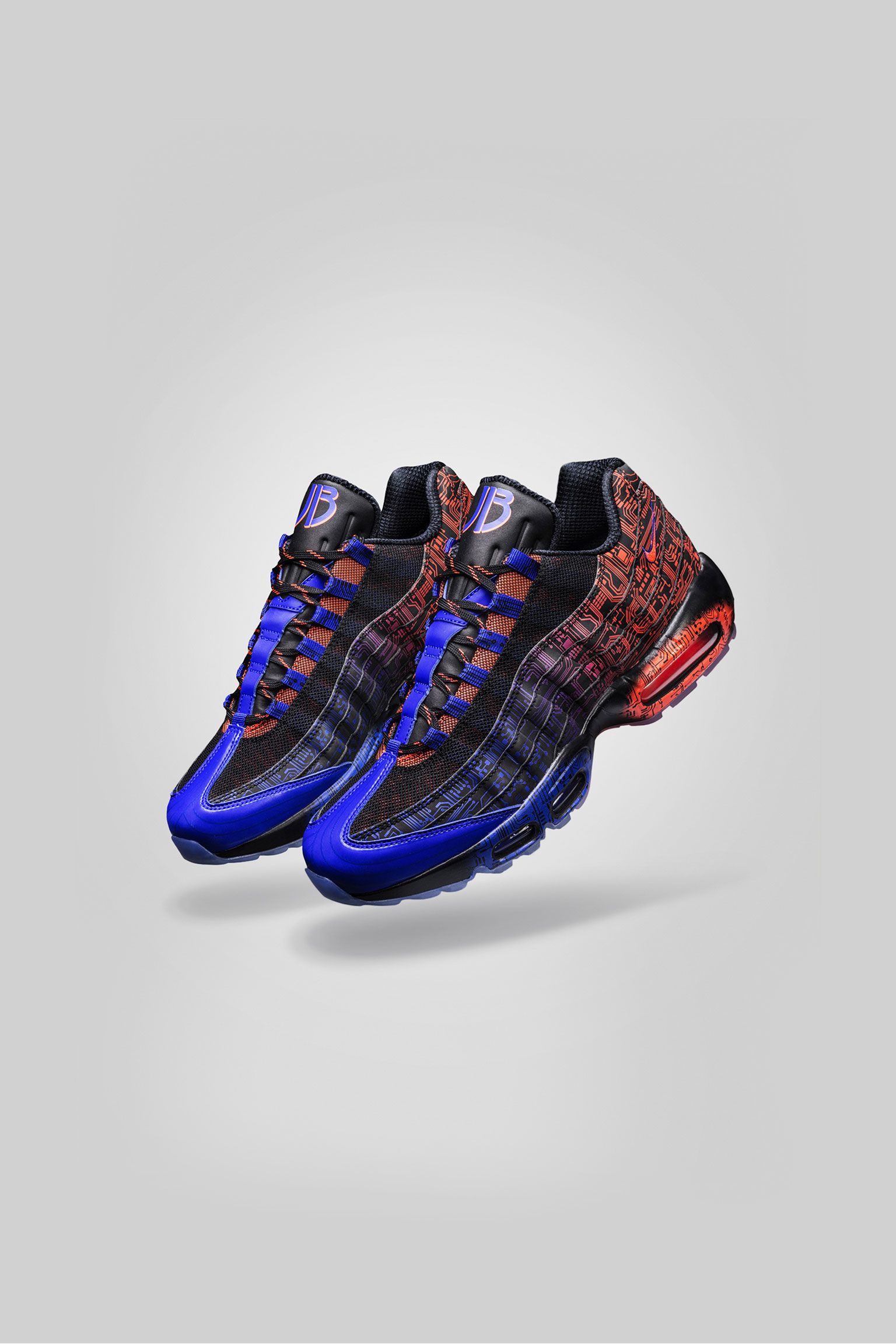 AIR MAX 95 PREMIUM
DOERNBECHER FREESTYLE
$170
"High blood pressure was the only symptom I had, and if it had gone undetected I could have died," he explained. "That's why I want everyone to get their blood pressure checked." It's so important to Jacob that he's turned his Air Max 95 Premium into a public service announcement of sorts. The tongue tells you to "check your BP" and features a little heart made out of Jacob's thumbprint. "I was thinking that it could help a lot of people," he explained.
Other cool features include a circuit board pattern (since he's bionic, after all), a heart graphic under the heel, and the phrase "I walk to my own beat" on the sockliner. As for the red and blue palette, that's a nod to his favorite superhero, Spiderman.
"He does the right thing no matter what. I think that's super awesome," Jacob explained. What's also super awesome is Stan Lee's signature on Jacob's shoe. The two met at a comic book convention, and when Jacob asked the legendary comic book writer if he would lend his name to a good cause, he was happy to oblige.
Jacob's design aspirations go beyond footwear. He says he'd like to design video games someday, the kind that let you choose your own storyline. "I like games that keep going, where you can achieve your own goals," he said. In other words, Jacob likes the game of life—and he'd like to thank the Doernbecher doctors for saving his. "I'm so grateful for everything they did for me. I wouldn't be here without them."

Jacob's one-of-a-kind footwear, apparel and equipment designs will be sold on a limited edition basis at Nike retail locations and on Nike.com, with proceeds benefitting OHSU Doernbecher Children's Hospital.